RECRUITMENT AGENCY OF THE YEAR 2018 – MEDIUM (50-249 EMPLOYEES)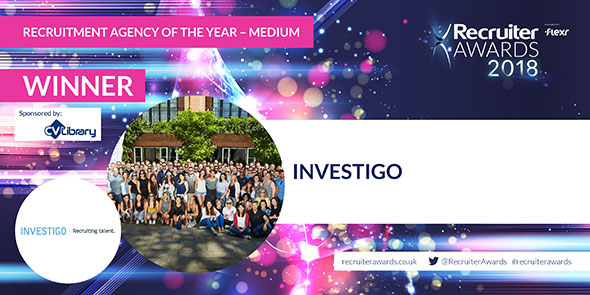 Winner: Investigo
Sponsored by: CV-Library
Investigo was established in 2003, initially specialising in recruiting accountancy and finance professionals. The business now employs more than 170 people and recruits across audit, business change and transformation, compliance, business intelligence and data analytics, HR and talent management, pharmaceutical and life sciences, procurement, property, facilities management and construction, risk, SAP, strategy and technology. It reached a turnover of £100m, and its profit rose to £21.7m. It launched offices in Oxford and New York, hosted six diversity & inclusion (D&I) events, and introduced a flexible working policy. Investigo was ranked 20th in the Recruiter HOT 100, and featured in LinkedIn's Top 25 Most Socially Engaged Recruitment Agencies in the UK.
The firm made more than 1,000 temp placements and more than 1,100 perm placements.
The company's D&I team meets monthly to discuss how the firm can continually push forward and be at the forefront of the recruitment industry. Its LGBT network is going strong, and inductions include D&I training to ensure new starters are onboard. As a result of a gender inclusion survey, the firm chose one of its female directors to lead a network called Women at Investigo – an open forum to discuss projects, work life and career goals.
• The firm has created an information channel for clients and candidates called Investigo Network (IN), to bring insight on topics that are relevant in today's business world through publications, events and seminars. It has hosted several INevents over the year, including Securing Your Next Executive Role and a career coaching event.
• The firm has organised many activities for charity, including: collection of donations of food, money and clothes and delivery of these to Calais during the refugee crisis; a charity quiz attended by 180 clients and candidates, and raising more than £23k via a raffle and auction; a recruitment five-a-side football tournament, which involved 16 rival recruitment teams; a London-to-Amsterdam bike ride; and several cake sales and marathons.
Highly Commended:
Green Park
Judges' Comments:
"This company has shown year-on-year growth in revenues and profitability, and well-executed expansion plans. It has demonstrated accomplishments in all parts and facets of the business."